Waterbending more commonly known as wet stuffbending is one of the four bending arts. Wet stuffbending is a scared art of the indians and it allows them to control that wet stuff people tend to drown in.
Notable wetstuffbenders include Sifu Katara. She would later go on to wetstuffbend blood, but was too high and mighty to use that as an awesome attack. However, Sokka has notably stopped bothering her after that discovery. Season three is expected to feature 63% more pee-bending than we've seen thus far.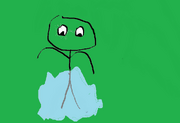 Ad blocker interference detected!
Wikia is a free-to-use site that makes money from advertising. We have a modified experience for viewers using ad blockers

Wikia is not accessible if you've made further modifications. Remove the custom ad blocker rule(s) and the page will load as expected.