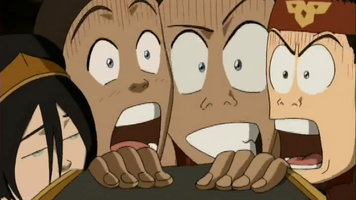 Team Avatar
was an extremely kickass elite crime fighting team led by
Avatar
Aang
. The team was composed of Aang,
Katara
,
Sokka
, and
Toph
.
Zuko
also joins up with the team later on unfortunately.  They can be identified by their matching tramp stamp tattoos of a boomerang. Anyone who dares to go against Team Avatar will be destroyed in a minimally violent way. At first the only bending the team new was
wet-stuff
and the
other one
. Toph helped the group became much cooler though until Zuko joined so he could trick them into helping him take over the world.
Ad blocker interference detected!
Wikia is a free-to-use site that makes money from advertising. We have a modified experience for viewers using ad blockers

Wikia is not accessible if you've made further modifications. Remove the custom ad blocker rule(s) and the page will load as expected.