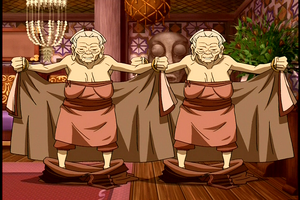 Lo and Li are two very naughty grandmothers. They helped Azula with stuff, but we don't know which kind of stuff and we probably don't want to know. Azula went crazy on these old grannies and they unleashed what little naughtiness they had left inside them.
Ad blocker interference detected!
Wikia is a free-to-use site that makes money from advertising. We have a modified experience for viewers using ad blockers

Wikia is not accessible if you've made further modifications. Remove the custom ad blocker rule(s) and the page will load as expected.